In today's article, I'll describe how to create a GraphQL backend using Rust and its ecosystem. The article provides examples of an implementation of the most common tasks that can be encountered while creating GraphQL API. Finally, three microservices will be combined into a single endpoint using Apollo Server and Apollo Federation. This allows clients to fetch data from any number of sources simultaneously, without needing to know which data comes from which source.
In terms of functionality described project is quite similar to one described in my previous article, but now it is written using Rust's stack. The project's architecture looks like this: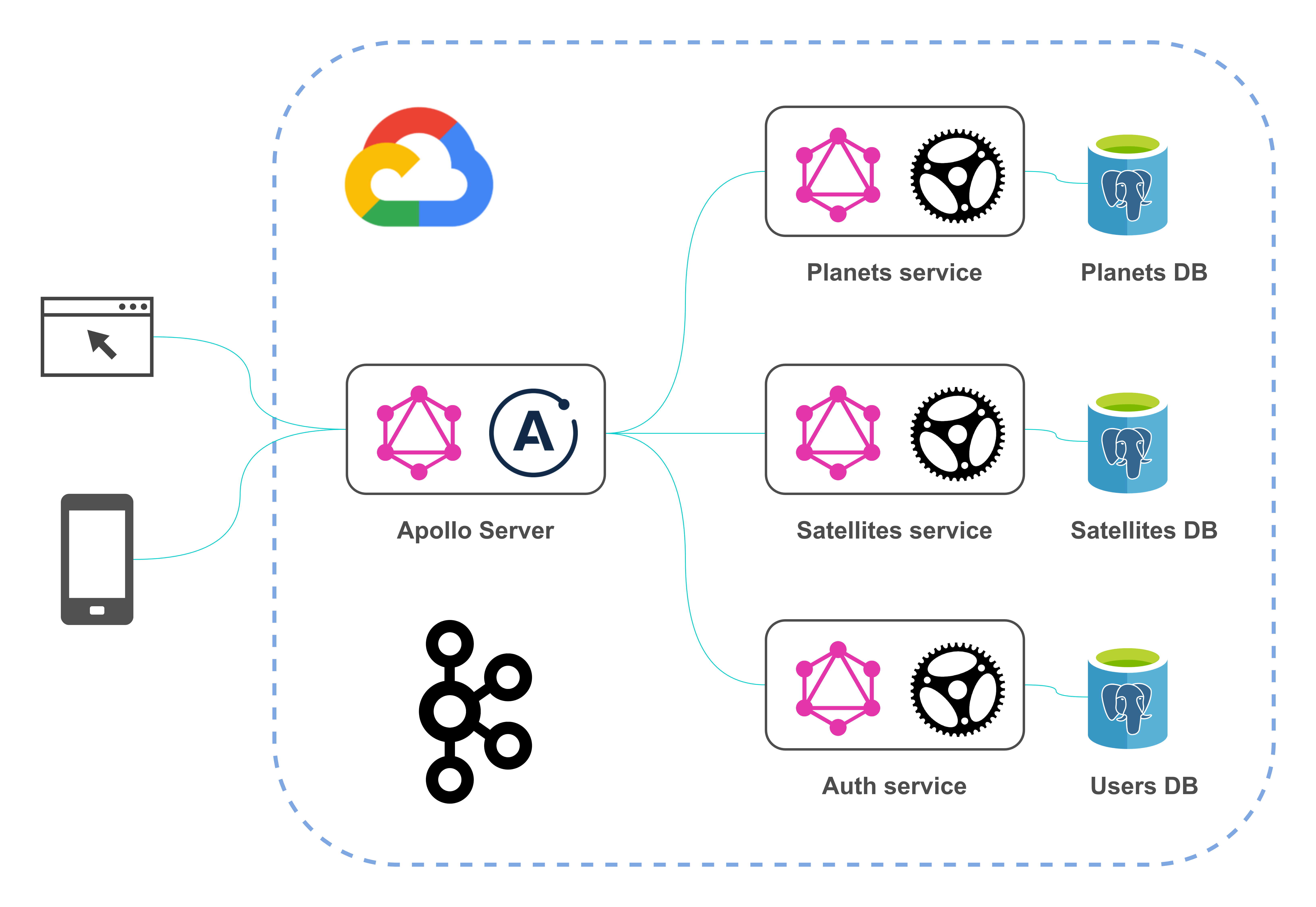 Each component of the architecture answers several questions that may arise when implementing GraphQL API. The domain model includes data about planets in the Solar System and their satellites. The project has a multi-module structure and consists of the following modules:
There are two main libraries for creating a GraphQL backend in Rust: Juniper and Async-graphql, but only the latter supports Apollo Federation, so I chose it for the project (there is also an open issue for Federation support in Juniper). Both libraries follow the code-first approach.
Also, PostgreSQL is used for persistence layer implementation, JWT — for authentication, and Kafka — for asynchronous messaging.
The following table summarizes a stack of main technologies used in the project:
| Type | Name | Site | GitHub |
| --- | --- | --- | --- |
| Language | Rust | | |
| GraphQL library | Async-graphql | | |
| Single GraphQL endpoint | Apollo Server | | |
| Web framework | actix-web | | |
| Database | PostgreSQL | | |
| Event streaming platform | Apache Kafka | | |
| Container orchestration tool | Docker Compose | | |
Also, some other used Rust libraries:
| Type | Name | Site | GitHub |
| --- | --- | --- | --- |
| ORM | Diesel | | |
| Kafka client | rust-rdkafka | | |
| Password hashing library | argonautica | | |
| JWT library | jsonwebtoken | | |
| Testing library | Testcontainers-rs | | |
To launch the project locally you only need Docker Compose. Without Docker, you might need to install the following:
In this article, I considered how to solve the most common problems that can arise while developing GraphQL API in Rust. Also, I showed how to combine APIs of Rust GraphQL microservices to provide a unified GraphQL interface; in such an architecture an entity can be distributed among several microservices. It is achieved by using Apollo Server, Apollo Federation, and Async-graphql library. The source code of the considered project is on GitHub. Feel free to contact me if you have found any mistakes in the article or the source code. Thanks for reading!